Ok - so I came across this site today
IronCupcake: Earth
What a GREAT site that is - you have to check it out!
Anyway, so I found myself intrigued by this month's challenge.
To make cupcakes with SODA POP - somehow, someway
The first thing that popped in my head......
ROOT BEER FLOAT CUPCAKES!
Voila!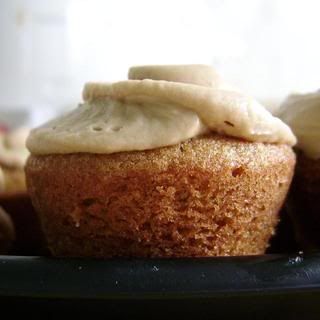 Aren't they dreamy? *smile*
So, how I decided I was going to do this was take a regular vanilla cupcake recipe and alter it. I used the vanilla cupcake recipe from
Hello, Cupcake!
The alteration I made to the recipe was to use root beer concentrate instead of vanilla (mixed with veggie oil and milk).
Creepy looking, huh?
Alright, so then I mixed everything together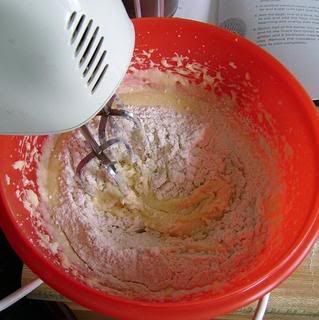 The tip about spooning the batter into a ziplock baggie and clipping a corner is an awesome one! Next time you make cupcakes - do it! Absolutely no drips on the pan and it is much easier to get all the cups even. I was happy!
Since I was making mini cupcakes, I only baked them for 13 minutes. Here they are naked: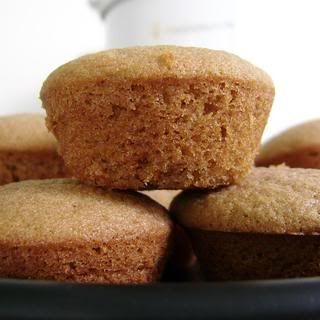 For the icing, I kept is simple....very simple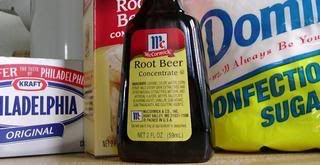 Just some cream cheese with root beer concentrate and some powdered sugar for sweetness. Beautiful.
I really enjoyed thinking outside the box on this challenge and will most likely make these again. They tasted wonderful, though, I would probably start with a different "basic" recipe, as I found this one a little too dry for my tastes. :)
In case you're interested, though:
2 1/2 c all-purpose flour
2 t baking powder
1/2 t baking soda
1/2 t salt
1/2 c milk
1/2 c veggie oil
1 t vanilla extract
1 stick unsalted butter, softened
1 c sugar
3 large eggs

1 - Preheat the oven to 350 F. Line 24 muffin cups with paper liners.

2 - Whisk together the flour, powder, soda, and salt in a medium bowl. Combine the milk, oil, and vanilla in a 2-cup measuring cup or a small bowl.

3 - In another medium bowl, with an electric mixer on medium speed, beat the butter and sugar until light and fluffy, about 3 minutes.

4 - Add the eggs, one at a time, beating well after each addition. Reduce the speed to low and add the flour mixture alternately with the milk mixture in batches, beginning and ending with the flour mixture and beating just until blended.

5 - Spoon half of the batter into a ziplock bag. Snip 1/4-inch corner from the bag and fill the liners two-thirds full. Repeat with the remaining batter. Bake until golden and toothpick inserted in the center comes out clean, 15 to 20 minutes. Remove the cupcakes from the baking pan, place on a wire rack, and allow to cool completely.
Check out
IronCupcake
for more cool cupcake stuff.
Our April ETSY PRIZE-PACK is from artists:
A creation by
FRUITFLYPIE
, a pair of cupcake earrings from
LOTS OF SPRINKLES
, a sweet surprise from
Sweet Cuppin' Cakes Cupcakery
,
PLUS, IronCupcake:Earth can not forget our good friend,
CAKESPY
, who is now going to be doing a piece for our winner each month until further notice - sweet!
Last and certainly not least, don't forget our corporate prize providers:
HEAD CHEFS by FIESTA PRODUCTS
,
HELLO CUPCAKE
by Karen Tack and Alan Richardson,
JESSIE STEELE APRONS
;
TASTE OF HOME
books, a t-shirt from
UPWITHCUPCAKES.COM
. Iron Cupcake:Earth is sponsored in part by
1-800-Flowers
.
Enjoy!
-Erica