This is a cute little saying that my good friend
Maggie
says. I find it cute and whimsical....and totally appropriate for today.
That's right, did you know today is National Jelly Bean Day? Well, it is my friend. Glorious Jelly Beans. They have been around since the 1800's, and while no one knows the name of the person (probably a woman, by the way) that actually invented the Jelly Bean, we're sure glad *she* did it!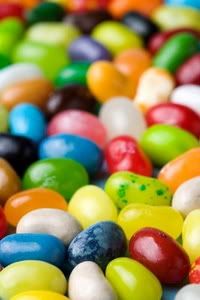 You know how I love colorful things. So, naturally I am a Jelly Bean fan. However, I cannot seem to jump on the, what I have deemed, "creepy flavors" bandwagon. A Jelly Bean just shouldn't taste like buttered popcorn or boogers. I mean, really? I thought we, as a society, agreed that eating boogers is nasty, no? So why promote eating boogers IN public, WITH your friends, AND laughing while you do it?! I don't know, my friend, I don't know.
Alright, moving on. Jelly Beans have now been created in well over 50 distinct flavors and can be found almost anywhere. Here is
Jelly Belly's
chart of their "standard" flavors.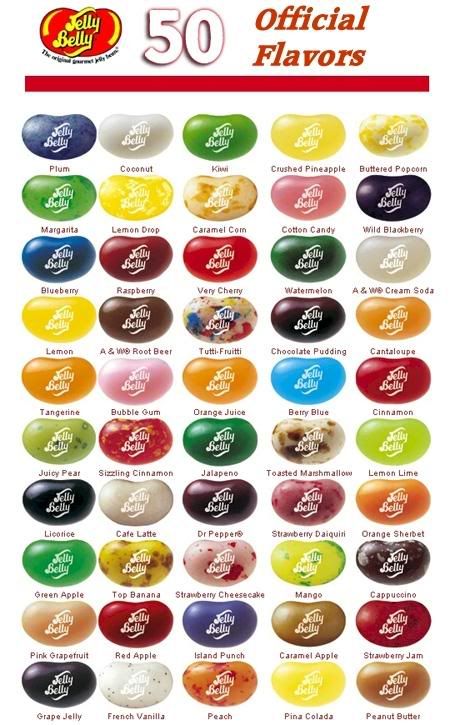 Thank goodness the "booger" flavor isn't a standard, yeah?
*clears throat*
Sorry, I just cannot help but dwell on that. It really bothers me....boogers? Who would think of such a flavor?
Ok, ok....so anyway, Jelly Beans have even been served at high-end parties. They're growing up, you know. These Jelly Beans are out having a great time. I hope they have a DD* to get them home safely.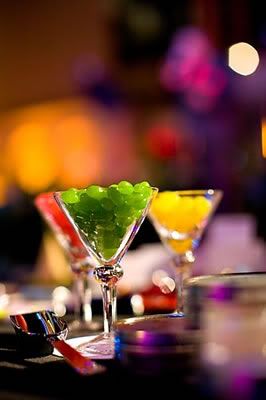 Did you know that there is even such a thing as a
Jelly Bean Bar
? Yes, indeed there is. It is OK if you didn't know, I didn't either. See, we're forming bonds, learning together.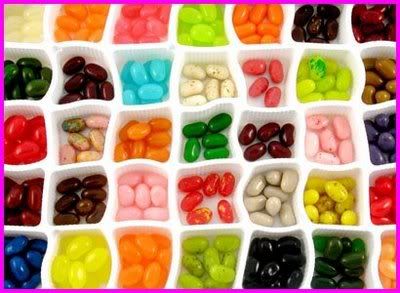 Yes, evidently, someone has spent a lot (and I do mean a LOT) of time eating Jelly Beans in different combinations and seeing what it tastes like. Everything, from desserts like Tiramisu to WINE. Yes, I said wine. I found this information on
Isn't She Lovely
.
So, in light of National Jelly Bean Day, would you like to do something else super fun? Yes? I thought you might.
Alright, here we go:
Leave a comment and tell me YOUR favorite Jelly Bean flavor. It can even be a "specialty" flavor that is not on the "standard" flavor list.
Comments will be accepted now through 5 PM Eastern on Thursday, April 23rd.
Then, I will go to RANDOM.org and we'll have ourselves a winner!
"A winner of what?", you might ask? Well, that part is a surprise! It is something yummy, something sweet, something special. You'll just have to comment to find out what it is!
[Please remember if you choose to leave an ANON comment to include your name and some sort of contact info]
*DD = Designated Driver (non-drinker) for those who didn't know.
Enjoy!
-Erica