So, I was feeling like I needed some time in the kitchen today....just the two of us. We're best friends, you know? I went to my shelf and picked out a book that I haven't used yet.
Sweet Temptation
by Nicki Trench. To be honest with you, I was a little disappointed after getting this book. I'm not a fan of fondant, never have been. This book uses a LOT of fondant....therefore has a LOT of recipes I'll never use. None-the-less, I have the book and wanted to use it.
I decided to make the Peppermint Patties....called Peppermint Creams in the book.
The recipe is very simple, 4 ingredients (and actually only 3 of them are necessary) total and voila!
You start with powdered sugar and a lightly beaten egg white (it should be a little frothy-looking). It'll be runny at first: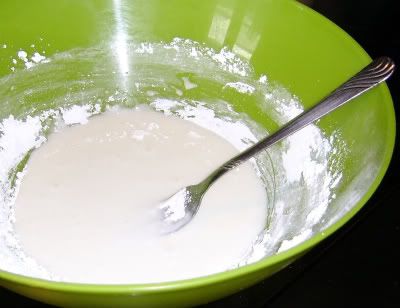 Then, as you add more powdered sugar, it'll become more thick....so thick and chunky and dry-looking that you won't be able to stir it with a fork any longer: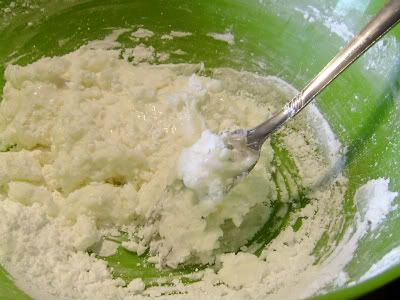 After this point, you can add in the peppermint extract (or you could be really daring and use another kind of extract) and the food coloring (optional). You'll need to start working the dough with your hands until you get a nice "doughy" ball that is evenly colored (if you used dye) and smooth: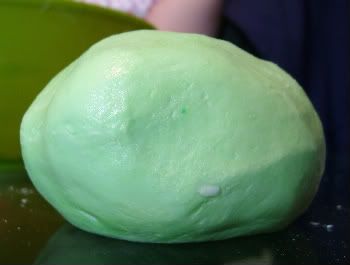 Now, this is where I deviated in a big way from the recipe (other than the fact that I never measured the powdered sugar. *smile*
The recipe says to roll the dough out and cut the circles with cookie cutters. I thought that I'd end up wasting a lot of the 'dough' that way, since the dough will dry out quite quickly, I probably wouldn't be able to reuse the scraps after cutting the first set. So, to alleviate this problem, I just pulled off little bits of the dough and rolled them into balls.
I used a small glass cup and dipped it into some powdered sugar and then flattened the balls. Yes, the edges will be cracked (but I didn't care), unless you flatten the balls as you go. Then they wouldn't have time to dry slightly on the edges and would be easier to flatten without cracking.
Now, you can stop here and end up with something similar to those "after-dinner mints" that come in those pastel colors...but I wanted chocolate! So, we decided to dip half of them into some semisweet chocolate. Which, I think, made them look pretty anyway.....and of course everything tastes better with chocolate.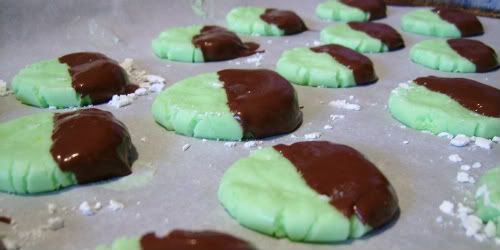 We were able to get 26 little mints out of one batch. The recipe never says how many they 'suggest' you'll get out of it.
Here is their recipe:
1 3/4 C powdered sugar
1 free-range egg white
peppermint extract
food coloring (optional)

1. Lightly grease a large piece of waxed paper. Sift approximately two-thirds of the sugar into a mixing bowl. Lightly whisk the egg white with a fork until it is lightly frothy. Pour the beaten egg white into the icing sugar, add a few drops of peppermint extract, and mix with a fork until all the ingredients are combined.

2. Add the remaining sugar a little at a time and continue mixing until the dough is too stiff to mix with a fork. Finish mixing with your hands until the mixture has a doughy consistency. Taste and add more peppermint, if necessary. Keep your hands dusted with sugar so that the mixture doesn't stick to your fingers. Add a few drops of food coloring if desired.

3. Dust your work surface with powdered sugar and roll out the dough to a thickness of 1/2 inch. With a small round cutter, cut out the peppermint creams and lay them on the sheet of waxed paper to dry.
Enjoy!
-Erica