Creamy vanilla.......sweet and tangy orange......mixed together, what could be better?
Do you remember these delicious ice cream treats? They were my favorite when I was a kid. Now, I have recreated them....in cupcake fashion!
These little drops of bliss were created for the
IronCupcake: Earth
challenge for April, also. I actually have a little something else up my sleeve, too. So be on the lookout for another yummy cupcake post.
Okay, so I used the same recipe from Hello, Cupcake for these babies, too. You can find the recipe
here
. I substituted orange extract for the vanilla in this case.
Once I had the batter mixed together, I took some out and dyed it orange (with red and yellow food coloring) so that they would look pretty. And did they ever?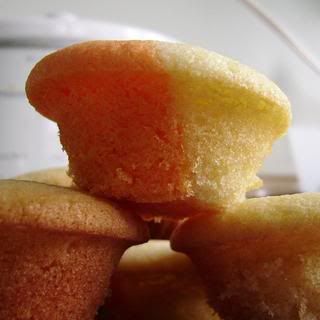 From the top: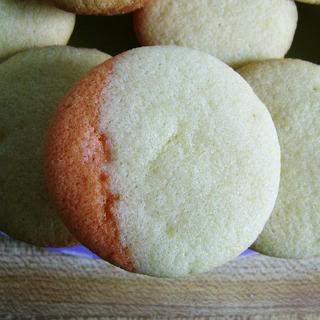 For the icing, I kept it simple (again). I like yummy but simple. *smile*
I added some food coloring to the icing as well.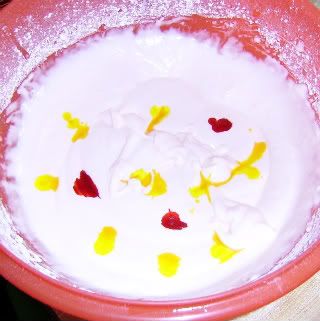 Can you just taste them now? Here, take a little nibble: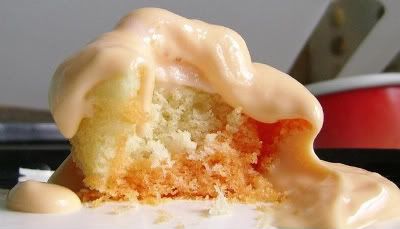 I topped them with a little scoop of the Orange & Vanilla Ice Cream from UDF and then drizzled the icing over top it all. Messy, but totally delicious!
Check out
IronCupcake
for more cool cupcake stuff.
Our April ETSY PRIZE-PACK is from artists:
A creation by
FRUITFLYPIE
, a pair of cupcake earrings from
LOTS OF SPRINKLES
, a sweet surprise from
Sweet Cuppin' Cakes Cupcakery
,
PLUS, IronCupcake:Earth can not forget our good friend,
CAKESPY
, who is now going to be doing a piece for our winner each month until further notice - sweet!
Last and certainly not least, don't forget our corporate prize providers:
HEAD CHEFS by FIESTA PRODUCTS
,
HELLO CUPCAKE
by Karen Tack and Alan Richardson,
JESSIE STEELE APRONS
;
TASTE OF HOME
books, a t-shirt from
UPWITHCUPCAKES.COM
. Iron Cupcake:Earth is sponsored in part by
1-800-Flowers
.
Enjoy!
-Erica