Chocolate. Caramel. Pecans. Brownies.
Need I really say more?
I love brownies. I love chocolate. I love caramel. I love nuts....any kind of nuts, just about. When you put them all together, it is a celebration.
These brownies are not for the faint-hearted. These are chewy, gooey, rich, decadent, fudgy brownies. Mmmmmmm.
I started with a double chocolate brownie base with pecans. Two kinds of chocolate in there, my dear. Sprinkled with chocolate morsels and pecans.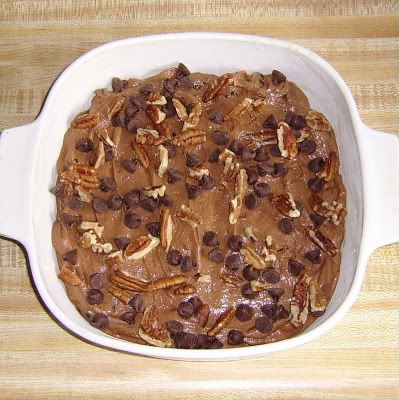 I baked them for about 40 minutes....they looked delightful straight out of the oven. I could barely keep my hands off of them!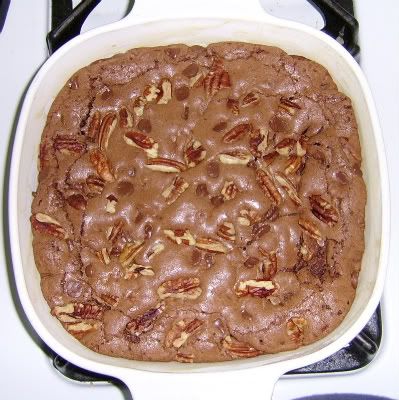 Oh, but this is where it gets *really* good.
Bring on the CARAMEL! Lots of it!
After the caramel set, I smothered them in even more chocolately goodness. A rich chocolate ganache. Delightful.
I was so anxious, I didn't wait for them to cool all the way. I know, I know....shame on me. But, I'm willing to bet you would've done the same thing. Let's be honest. Yeah, I thought so.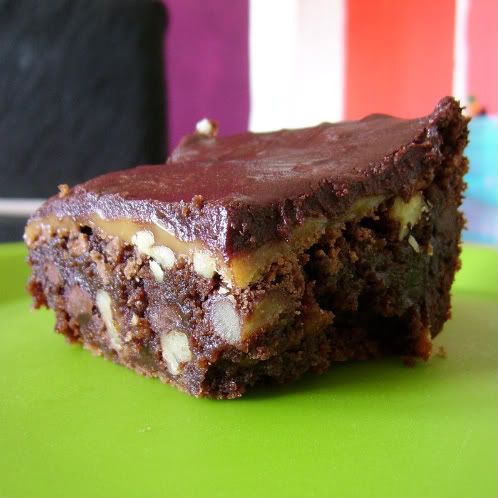 Double-Chocolate Brownies

2 oz. unsweetened chocolate
2 oz. semisweet chocolate
1 C butter, softened
2 C sugar
4 large eggs
1 C all-purpose flour
1/2 tsp salt
2 tsp vanilla
3/4 C chopped toasted pecans
3/4 C semisweet chocolate morsels

Preheat oven to 350 F. Microwave chocolate in a small bowl at MEDIUM for 30-second intervals until melted. Stir chocolate until smooth.

Beat butter and sugar at medium speed with an electric mixer until light and fluffy. Add eggs, 1 at a time, beating just until blended after each addition. Add melted chocolate, beating just until blended. Add flour and salt, beating at low speed just until blended.

Stir in vanilla, 1/2 C pecans, and 1/2 C chocolate morsels. Spread batter into a greased and floured 13 X 9 pan. Sprinkle with the remaining 1/4 C pecans and 1/4 C chocolate morsels.

Bake at 350 F for 40 minutes or until set. Cool completely on a wire rack. Cut into squares.

YIELD: 32 brownies

Note: Freeze brownies in an airtight container for up to 1 month.
After my brownies set, I poured the caramel and chocolate ganache over them.
For the caramel:
12 caramels, unwrapped
1 Tb heavy cream

Melt over low heat, stirring often, in a small saucepan. Pour over brownies.

For the ganache:
1/4 C semisweet chocolate
1 Tb heavy cream
1 tsp vanilla

Melt over low heat, stirring often, in a small saucepan. Pour over caramel.
Enjoy!
-Erica