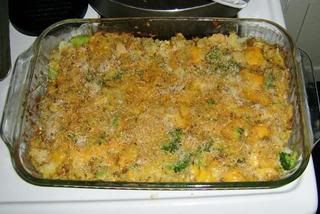 Yesterday my hubby and I went grocery shopping and I asked him what he wanted me to make for dinner. Now, the variety is endless, but I had a feeling that he'd say, "Chicken Broccoli Casserole". This is one of his all-time favorite dishes I make. I make it fairly often (at least once a month, though he'd like it once a week) and each time I basically "zombie-out" and just make it.
I've made this dish so many times and I can make it in my sleep. Yesterday, though, my hubby said, "Why don't you put this on that blog-thing of yours?" Gotta love him, he is so clueless when it comes to computers. *smile* Our 4-year-old daughter can navigate better on my PC than he can. Can you believe that?
Ok, so moving on....
*giggle giggle*
Sorry, let me compose myself.
*clears throat*
Alright, so I thought that was a great idea. There are probably many households out there (especially now) looking for something new to try. Something that is super easy, delicious, and economy-friendly.
Here it is:
1 lb. skinless and boneless chicken, cooked and cubed
1 bag of frozen broccoli cuts
1 egg
1 can cream of mushroom soup
8 oz cheddar cheese, shredded
1 box Stove Top stuffing (prepared according to box directions)
bread crumbs and extra cheese for the topping

Mix everything together and bake (covered) at 375 F for 35 minutes. Uncover and return to the oven for additional 15 minutes.

Enjoy!
*NOTES*
So, you can make this dish MORE homemade by using fresh broccoli and steaming it first. Making your own cream of mushroom soup, making your own stuffing recipe, etc.
I never use pre-shredded cheese because of the icky things they put IN the cheese to prevent "caking" - yick! Instead, I have this AWESOME little Rotary Grater from
Entertaining at Home
- fabulous! Here it is in action: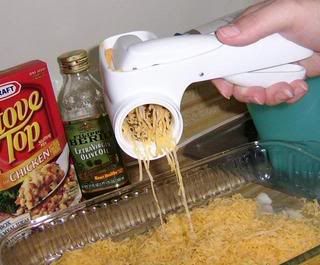 All you do is cut the cheese into blocks and put them in and voila - easy shredded cheese with NO scraped knuckles. The best! *smile*
Alright, so now you have one of my Family's favorite dishes.
Enjoy!
-Erica