Thanks so much to everyone who shared with me the wisdom of why I should respect Lima Beans. I feel enlightened....and maybe I'll toss some beautiful green Limas in my chili next time. Probably not, but who knows? Maybe I will.
Ok, I think we both know I won't, but it sounded nice, didn't it?
Alright, on to the winner of the beautiful Lima Bean Earrings and Bracelet set.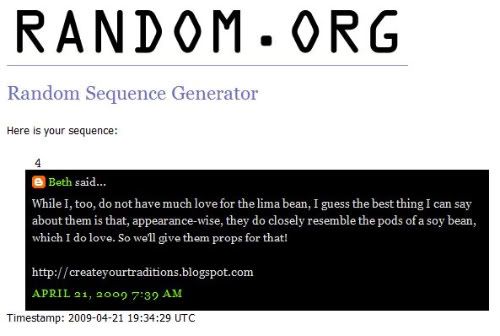 Beth! Thanks so much for sharing....and while she doesn't really care for Lima Beans, I bet she'll love these fancy pieces of jewelry!
Congratulations, Love!
Enjoy!
-Erica
PS) Keep your eyes peeled, I have more giveaways up my sleeve and coming your way!