Do you know what makes "lunchbox" brownies? Well, until yesterday, neither did I. But here is what I learned:
Lunchbox brownies are not too cakey so that they go stale, but they're not too fudgy so that they make a huge mess. They sit comfortably in the middle. Evidently, the middle is good.
According to my hubby (self-renowned foodie) these are just the very best brownies he has ever put in his belly. He actually demanded that I make another batch "as soon as possible.....which means today" (since the first batch is already gone, partly due to him and partly due to our Family celebration yesterday)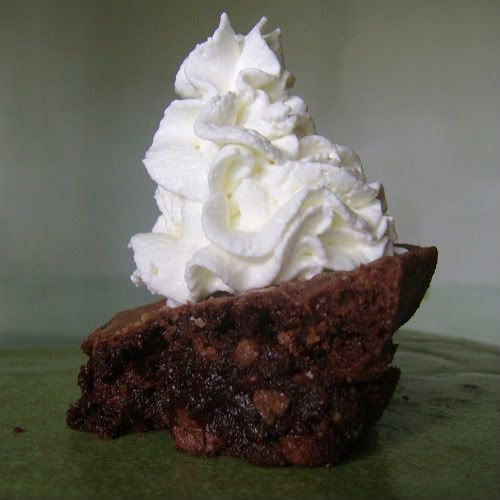 This is his first brownie from this batch. My hubby loves whipped cream, can you tell?
Now, I did follow the recipe exactly.....until it came to the "additions". I threw in (no kind of actual measurement) some milk chocolate chips, white chocolate chips, and a little chopped pecan. Yummy.
This recipe was super easy to make and pretty quick. It makes a full 9 X 13 pan, so enough to go around a decent size crowd (or a couple of serious brownie lovers). They aren't too rich that you have to eat a teeny piece, but they're fudgy enough to satisfy the chocolate lover. A really good and happy medium.
Wanna make them? Here ya go:
Lunchbox Brownies

1 1/2 C flour
1 tsp baking powder
1 tsp salt
2 sticks unsalted butter, at room temperature
4 oz unsweetened chocolate
2 C sugar
3 large eggs, at room temperature
1 tsp vanilla

1. Preheat the oven to 350 F. Generously butter a 9 X 13 pan; set it aside

2. In a medium bowl, whisk the flour, powder, and salt until well combined. Set aside

3. Place the butter and chocolate in a bowl and put in microwave for 30 seconds. Stir and repeat at 15 second intervals until chocolate is completely melted. Transfer the mixture to a large bowl and allow it to cool for 5 minutes. (You can also use a double boiler to melt the chocolate and butter together, if you prefer)

4. Beat the sugar into the chocolate mixture with a whisk or with an electric mixer at medium speed (I recommend the electric mixer, you'll see why in just a second); continue beating until the mixture is well-blended. (About 6 minutes by hand or 3 minutes with the mixer) Beat in the eggs one at a time, allowing each to be thoroughly incorporated before adding the next. After beating in the third egg for 1 minute, beat in the vanilla.

5. With a wooden spoon or rubber spatula, stir in the flour mixture just until incorporated. Do not beat, although the batter will be very thick. Spoon the batter into the prepared pan, spreading it gently to the corners.

6. Bake for 30 minutes, or until a toothpick or cake tester comes out with a few moist crumbs attached. Set the pan on a wire rack and allow to cool for 30 min - 1 hour.

7. Cut and serve. This will make 24 - 2 1/4 X 2 1/8 brownies.

*After cooling completely, you can wrap with plastic wrap and they'll stay fresh for up to 2 days. If you wrap them (individually) tightly with wax paper and seal in a freezer-safe bag, they can freeze for up to 4 months (allow them to thaw at room temperature before serving).

**To vary this recipe:
Whisk one of the following spices into the flour mixture - 2 tsp cinnamon; 1 tsp ground mace.
Add one of the following flavorings with the vanilla - 2 tsp banana extract; 2 tsp orange extract; 1 1/2 tsp maple extract.
Stir in 1 1/4 C of any of the following mix-ins (or 1 1/4 C of any combination of the following) with the flour mixture - chopped candy bars; honey-roasted walnuts; chopped malted milk balls; chopped pecans; chopped hazelnuts; cocoa nibs; crumbled Oreo cookies; dried blueberries; dried cranberries; milk chocolate chips; peanut butter chips; white chocolate chips; pinenuts; Raisinets; shredded coconut; shelled sunflower seeds; plain or chocolate-covered espresso beans; or just about anything you love!
I leave you with a bite: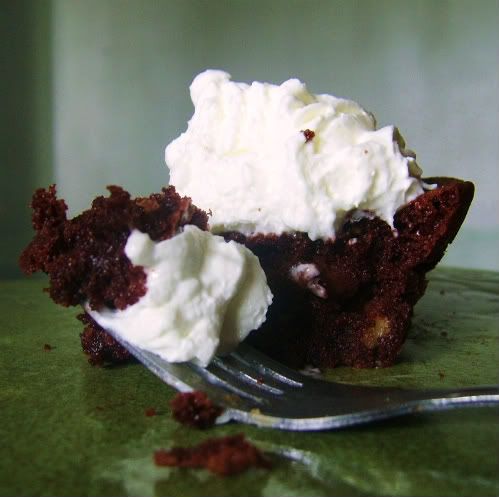 If you feel like sharing....I'd love to know what makes your ultimate brownie? Fudgy? Cakey? What do you like in your brownies?
Enjoy!
-Erica
PS) Don't forget to enter to win Junior's Cheesecake Cookbook
here
.