When you think of Chocolate Covered Almond Biscotti or Orange Creamsicles, you think YUMMY, right?
Well, not in this particular case....at least that is if you don't normally eat soap. Which, I'm going to pretend that none of my readers eat soap. That'll help me sleep better tonight. If you do eat soap, please feel free to keep that information private. *smile*
I've made a new friend, Silvia, from
SVSOAPS
. She has graciously offered one of my readers a free bar of her handmade Vegan soap and a handmade lip balm. Are you excited yet? Well, you should be - this stuff looks fantastic!
To tell you a bit about Silvia, this is a little interview:
Can you tell us a little bit about yourself, please.
I am the mommy of two adorable boys. My son Joshua is 4 and Nicholas is 6 months old. I am a WAHM. Some days it can be very challenging to balance everything but I would not trade it for anything.
How long have you been making bath and body products?
I have been making bath and body products for twelve years. I am always striving to make my products better and learn new techniques that I can incorporate in my products. Soap making is my obsession and my passion. I love to put a lot of creativity into each batch I make.
What inspired you to start?
My inspiration to start making natural bath and body products was the fact that the store bought soaps made my skin very dry and itchy from the chemicals and large amounts of fragrance in them. I started reading books on soapmaking and started to experiment. I must tell you they were sooooo ugly. But they smelled pretty and left my skin soft and itch free.
Making soap takes time, do you ever find yourself impatient for a batch to finish?
Yes, I get very excited when I come up with a new soap design. I can't wait to un-mold it and see how it has turned out. I have gotten better over the years to just stay away from the mold until the soap is ready. Then I am like a kid in the candy store. I get so excited when the soap turns out just as I had planned.
Do you accept custom orders for scents/combinations?
Yes, I do except custom orders. I think they are a fun way to challenge myself. And I love to hear customers ideas and make them into something they love. It is a wonderful feeling to see how excited they are with the finished product.
If so, what is the strangest request you've ever gotten?
I know this is a boring answer but I haven't had any strange requests yet.
What is your favorite scent?
That is such a hard question. There are so many. Everytime I get a new scent I think oh this is definetly my favorite and then I find something else I love just as much. But I have to say that after so many years of soap making I have always loved Satsuma and Love Spell the most. I never get tired of smelling them.
Do you have any other hobbies or interests?
I have many hobbies. I love to paint. I have another site on Etsy with my painted items. I love to knit, sew, decorate, bake, read, and being crafty (as my husband calls it).
Thanks so much for a little peek, Silvia!
WINNER: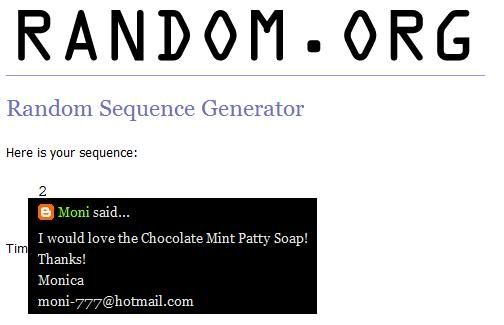 Congrats Monica!!! Thanks so much to everyone who entered! :)
Enjoy!
-Erica