I was so very excited to include a "Cuppie Social" in our last FFNOW event! We had bakers contribute their favorite recipe and bake a dozen (or in some cases more) to share!
I ended up baking FIVE dozen cuppies to share at the event! It was fun, but a bit overwhelming, honestly. I pulled out a book that I have never consulted before,
125 best Cupcake recipes
. I was pleasantly surprised. There are a lot of great recipes in there....125 to be exact. :)
Okay, so I baked the French Toast cuppies, Chocolate Mint cuppies, Chocolate Chip Cookie cuppies, Banana Nutmeg cuppies, and the Chocolate Peanut Butter cuppies. All of which were good....but the French Toast cuppies were FAB-U-LOUS! Really. If you like french toast or maple in general, those are for you!
Unfortunately, I was in such a hurry that I didn't get to take pictures of all the cuppies, which makes me sad. But I was able to get a picture of the Chocolate Mint cuppies before we went....and I had a couple left over that made it home with me, so you get pictures of those too!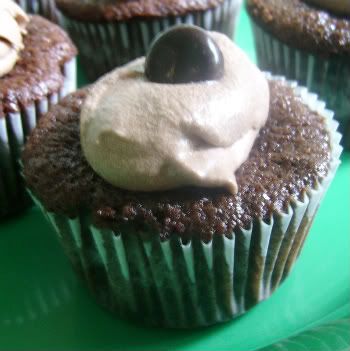 Chocolate Mint with Chocolate Mint buttercream and a junior mint on top!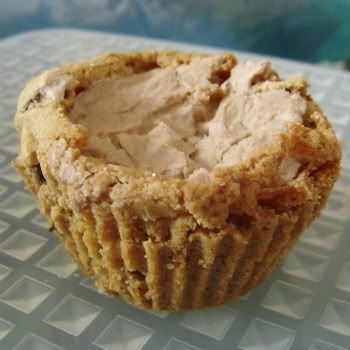 Chocolate Chip Cookie cuppie with Chocolate buttercream dollop in the center!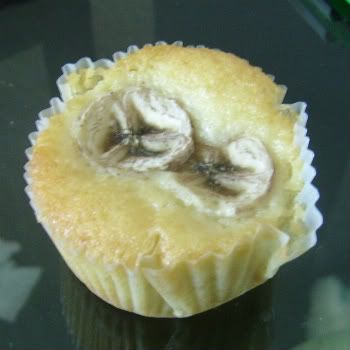 Banana Nutmeg cuppie with powdered sugar sprinkled on top - delightful!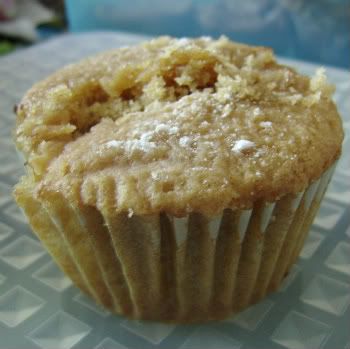 French Toast cuppie - we split it open and doused it with some more maple syrup and sprinkled it with powdered sugar - just awesome!
Some of the other cuppies that were there:
Pineapple Upside Down cuppies
Pina Colada cuppies (which won the grand prize)
Jones soda cuppies
Strawberry Ice Cream Cone cuppies
I'll get the recipes up here for you all lovely people soon.
Enjoy!
-Erica