Blueberry muffins are a classic. Practically everyone has had at least one in their lifetime. Well, I have seen (and now tasted) the best blueberry muffins....ever.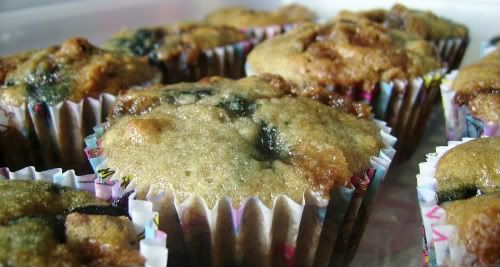 Blueberry Muffins with Pecans
Delicious. Trust me. The best blueberry muffins....ever.
First, I don't think I've ever had a blueberry muffin with pecans in them. Another thing, these babies have another addition - a brown sugar surprise....baked in. Yummy.
The recipe I found didn't say how many muffins would be made, but I was able to get 12 regular size muffins and this cute little ring, too.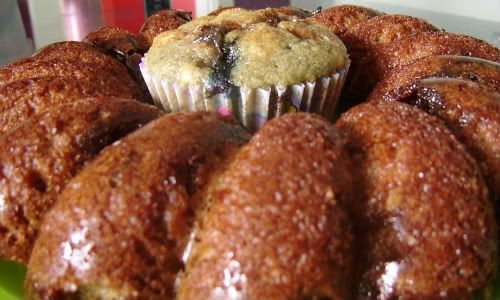 The ring would serve another 4 - 5 people, I'd say. Though, if you wanted to stick to all muffins, you could easily get 15 - 17 muffins out of the batter.
The inside is so wonderful! Baked to perfection, honestly. There is a nice blend of cinnamon with blueberry and pecan. Wanna see the inside? Here, I tore a piece of the ring just for you: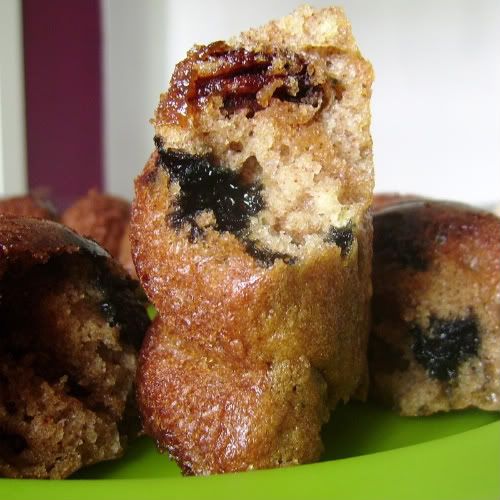 See that pecan? See the yummy blueberries. Delightful.
Wanna try them at your house? Here you go baby:
Blueberry Pecan Muffins with Brown Sugar2 C flour1 C sugar1 tsp baking soda1 tsp cinnamon1/4 tsp salt1/2 C chopped pecans1 C buttermilk1/2 C oil1 Xtra lg egg1/2 tsp vanilla1 C blueberriesPreheat oven to 375 FCombine flour, sugar, soda, cinnamon, salt, and pecans in large bowlWhisk buttermilk, oil, egg, and vanilla in small bowl. Add wet ingredients to dry ingredients. Stir just until combined. Gently fold in blueberries. Refrigerate batter for 10 minutes before scooping into the muffin liners.Mix 1/2 C packed dark brown sugar, 1 Tbsp flour, and 1 Tbsp softened butter with fork until crumbly. Sprinkle about 1 tsp over each muffin. Top with additional pecans (if desired).Bake muffins for about 20 minutes or until toothpick test is clean. Cool on a wire rack. Serve warm or cold.



*The brown sugar mixture will sink into the muffins and create little pockets of deliciousness. You could easily skip that step if you don't want the pockets.*
Enjoy!
-Erica
PS) Don't forget to enter to win Junior's Cheesecake Cookbook
here
.