Ok, so I didn't win April's challenge....but that is fine by me. Thanks to everyone who voted - it was a lot of fun!
May's IronCupcake: Earth challenge is SAVORY! I thought I'd have a little trouble with this one, since I focus mostly on sweets....but I wanted to give it a nice effort.
I give you......Meatloaf Cuppies!
I know, I know.....it just sounds weird, doesn't it?
I created little cuppies of meatloaf first, yes, in my cuppie pan.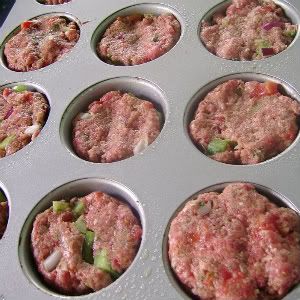 Then I whipped up a nice creamy batch of my Garlic & Herb Mashed Potatoes for the "icing". Diced up some green onions for "sprinkles"......
VOILA! Meatloaf Cuppies
If you'd like to know, they were fantastic! I always make meatloaf with mashed potatoes.....almost like it is a sin to eat meatloaf without mashed potatoes. Honestly, I don't know why I feel compelled to have the two together. Anyone else out there have something weird like this they want to share? Do you
always
eat your meatloaf with mashed potatoes? Would you feel normal
not
eating meatloaf with mashed potatoes....or is it just me?
Well, anyway, they were tasty. Confused Syndel (Ceryse didn't care, she'll eat [literally] anything) to all-get-out, but delicious.
Want a nibble? Here ya go: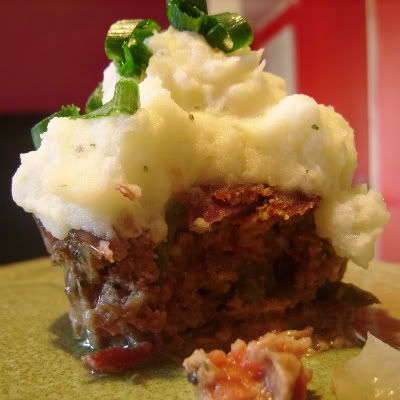 Our May ETSY PRIZE-PACK is from artists:

A sweet cupcake ID bracelet
by INSANEJELLYFISH

something sweet and dangly
from CHERRYCREEKCHARMS

a sweet surprise
from Sweet Cuppin' Cakes Cupcakery

PLUS, IronCupcake:Earth can not forget our good friend,
CAKESPY
, who is now going to be doing a piece for our winner each month until further notice - sweet!Last and certainly not least, don't forget our corporate prize providers:
HEAD CHEFS by FIESTA PRODUCTS
,
HELLO CUPCAKE
by Karen Tack and Alan Richardson,
JESSIE STEELE APRONS
,
TASTE OF HOME
books, a t-shirt from
UPWITHCUPCAKES.COM
.
Iron Cupcake:Earth is sponsored in part by
1-800-Flowers
.
Oh, yeah! By the way - don't forget to enter my
giveaway
going on NOW through May 12th!
Enjoy!
-Erica