This is exciting. My daughters and I walked up to this little corner store today to get some fresh air. When we got there, my 4-year-old asked for some juice....and what was next to the juice? JONES SODA! I thought to myself, "Hmmmm. IronCupcake's challenge this month IS soda. Why not!?" So, I picked up two unusual flavors of soda and headed home.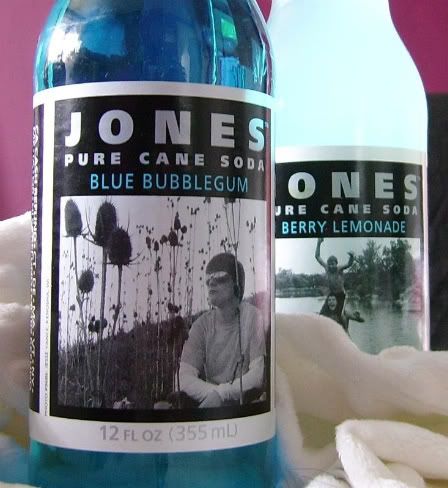 Now, I was in search of a new recipe to use with my awesome soda finds. I came across
this blogger
through
IronCupcake: Earth
, and thought this recipe was perfect:
1/2 C sugar
1/4 C butter
1 egg
1 tsp vanilla
3/4 C all-purpose flour
1 tsp baking powder
1/4 C soda pop
1. Preheat oven to 350 degrees F.
2. In a medium bowl, cream together the sugar and butter. Beat in the egg, stir in the vanilla. Combine flour and baking powder, add to the sugar mixture and mix well. Stir in the soda. Pour or spoon batter into cups.
3. Bake 20 to 25 minutes.
How perfect is that? Minimal ingredients. Three steps. Perfection!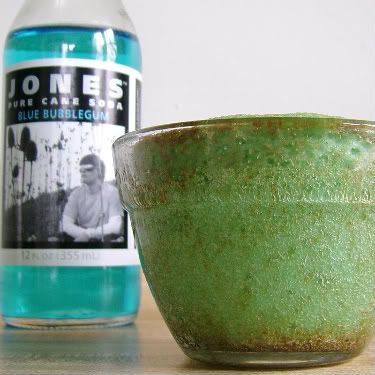 Un-iced. I baked them in the Prep Bowls from Pampered Chef - they make for GIANT cuppies! *smile*
Then, I filled them with yummy goodness:
Piled on the vanilla buttercream next:
Lastly, drizzled this dreamy blue bubblegum glaze over the top: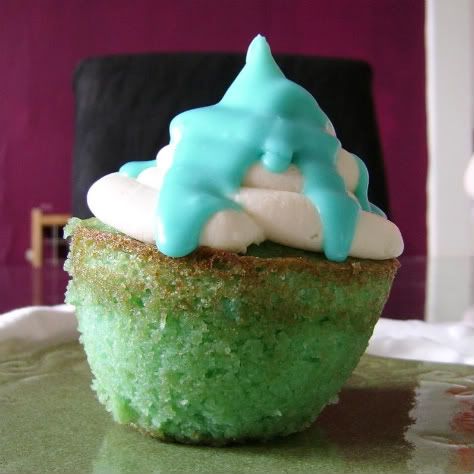 Here, you can see the filling inside:
*Yeah, I know, the cross-section picture is not great. I should have frozen the cupcake before even attempting this cut, but oh well. That just
forced
me to eat it right then*
Would you like to have a little nibble? Here ya go:
The icing recipe I used was from
Gonna Go Walk the Dogs
, thanks!
Vanilla Butter Cream
3/4 C margarine/butter
1 C powdered sugar
2 tsp vanilla
Beat all ingredients until fluffy - ice or pipe onto cuppies.
For the filling, I just winged it. This is basically what I did:
handful of white chocolate chips and a splash of buttermilk into a small saucepan, melt over medium heat. Let cool completely and beat in powdered sugar to desired consistency. Fill a ziplock bag and clip the corner. Pipe into (or onto) cuppies.
The glaze recipe I got from
Put a Cupcake In It
, thanks!
GLAZE
4 1/2 Tsp unsalted butter
1/4 C milk
2 C powdered sugar
food coloring
*I also added a splash of the Blue Bubblegum Soda*
Put sugar in medium-size bowl, melt butter over medium heat. Remoce from heat and whisk in milk. Add to sugar and whisk together. Add food coloring (and pop) at this point. The longer you let it sit, the more hardened it becomes, so you wanna dip (or drizzle) your cuppies right away.
Check out
IronCupcake
for more cool cupcake stuff.
Our April ETSY PRIZE-PACK is from artists:
A creation by
FRUITFLYPIE
, a pair of cupcake earrings from
LOTS OF SPRINKLES
, a sweet surprise from
Sweet Cuppin' Cakes Cupcakery
,
PLUS, IronCupcake:Earth can not forget our good friend,
CAKESPY
, who is now going to be doing a piece for our winner each month until further notice - sweet!
Last and certainly not least, don't forget our corporate prize providers:
HEAD CHEFS by FIESTA PRODUCTS
,
HELLO CUPCAKE
by Karen Tack and Alan Richardson,
JESSIE STEELE APRONS
;
TASTE OF HOME
books, a t-shirt from
UPWITHCUPCAKES.COM
. Iron Cupcake:Earth is sponsored in part by
1-800-Flowers
.
Enjoy!
-Erica