Ok - can we all say (together now) - YUMMY!!!
This was one of the best cheesecakes I have ever tasted! :)
A friend of mine,
Mike DiDomenico
, is a Pampered Chef Consultant. We were having a party at my house over this past weekend and he made this dessert for us! Needless to say, we were one bunch of HAPPY women that day! LOL
I will make this myself in the upcoming months....so be on the lookout for another post on this baby with "behind the scenes" pictures to accompany!
Here is the recipe:
A layer of crème de menthe candies in the center of the cheesecake gives this dessert a minty surprise.
Ingredients:
Crust and Filling
14-16 creme-filled chocolate sandwich cookies (1 1/4 cups/300 mL finely crushed)
4 pkg (8 oz or 250 g) cream cheese, softened
1 cup (250 mL) sugar
4 tbsp (60 mL) all-purpose flour, divided
1/2 tsp (2 mL) Double-Strength Vanilla
4 eggs, room temperature
1/2 cup (125 mL) sour cream
8-12 drops green food coloring (optional)
2 pkg (4.67 oz each) crème de menthe chocolate candies, unwrapped, divided (about 56 candies total)
Topping
3/4 cup (175 mL) semi-sweet chocolate morsels
1 1/2 cups (375 mL) thawed frozen whipped topping
7 crème de menthe chocolate candies (reserved from filling)
Directions:
1. Preheat oven to 325°F (160°C). For crust, lightly spray sides of Springform Pan with nonstick cooking spray. Line sides of pan with two 3 x 15-in. (7.5 x 38-cm) pieces of Parchment Paper. Press cookie crumbs onto bottom and slightly up sides of pan. Bake 8 minutes. Remove pan from oven to Stackable Cooling Rack.
2. For filling, place cream cheese, sugar, 3 tbsp (45 mL) of the flour and vanilla into Stainless (4-qt./4-L) Mixing Bowl; beat on medium speed of electric hand mixer 3 minutes or until well blended. Add eggs; mix on low speed 2 minutes. Add sour cream and food coloring, if desired; mix until smooth.
3. Set aside seven of the candies for topping. Cut remaining candies in half crosswise and toss with remaining 1 tbsp (15 mL) flour. Pour half of the filling into crust. Arrange candies, slightly overlapping, over filling; gently spoon remaining filling on top. Bake 55-60 minutes or until center appears nearly set when gently shaken (center will firm as it cools). Remove from oven to cooling rack; cool completely, about 3 hours.
4. For topping, place chocolate morsels, whipped topping and reserved candies into Small Micro-Cooker®. Microwave on HIGH 1 1/2-2 minutes or until melted and smooth, stirring after each 30-second interval. Spread topping over center of cheesecake using Small Spreader. Refrigerate 4 hours or overnight.
Yield: 16 servings
Nutrients per serving: Calories 500, Total Fat 34 g, Saturated Fat 22 g, Cholesterol 120 mg, Carbohydrate 41 g, Protein 8 g, Sodium 250 mg, Fiber 2 g
U.S. Diabetic exchanges per serving: 2½ starch, 7 fat (2½ carb)
Cook's Tips: To make a cheesecake with the creamiest texture, bring ingredients to room temperature before beginning the recipe.
Arrange candies slightly overlapping over bottom layer of filling. Gently spoon remaining filling over candies, being careful not to disturb candies.
To prevent overbaking, check cheesecake at minimum baking time given. When done, a center area about 1 in. (2.5 cm) in diameter will still jiggle slightly. The center will firm as it cools.
To freeze cheesecake, wrap in plastic wrap and aluminum foil. To thaw, place covered cheesecake in refrigerator for 24 hours.
Here is a picture (not a great one, though) of the whole thing....which didn't survive long! LOL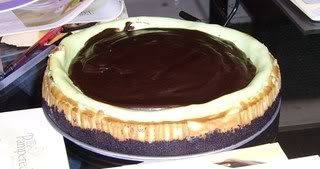 I do believe that the original recipe is from Pampered Chef...so THANKS! :)
Enjoy!
-Erica